We are glad to offer remote service, where you can give us limited access to your computer remotely, allowing us to service it without having to bring it in to our shop or have us come to your home or business!  Remote service is charged at $1 per minute.
If you are unsure about any of these steps, go ahead & give us a call and we'll be happy to help!
Step 1: Make sure you have the Chrome browser
We use an extension for the Chrome browser to provide remote services, so you will first need the Chrome browser installed.  The Chrome icon looks like the one to the right, and it can be downloaded here: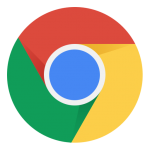 Step 2: Install the Chrome Remote Desktop extension
This extension allows a person to control your computer remotely. It will not give us access to your computer except when you provide us with a one-time use code.
Step 3: Get ready to give your one-time use code
Step 4: Call YAY Technology - 208-557-9299
Let us know what you need, and how you would like to pay. Generally we will need a credit card number before service. If you are a business we've worked with before, we can generally offer to send an invoice for payment.
Step 5: Provide your one-time code
Click on "Generate Code" on the Chrome Remote Desktop page from Step 3, and provide us with the code. Codes have to be used within 5 minutes to be valid.

At this point we will provide the service you requested. Once service is complete, we will let you know the total charges, and we will provide you with an emailed receipt.