Remote Service now available!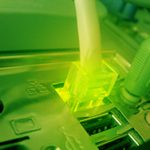 We are now offering remote services! We use Chrome Remote Desktop to let you provide as-needed access to your computer for service. 
Curbside Pickup & Dropoff Available
We are happy to carry your computer in & out for you, and can provide full curbside service if needed.
Just pull up outside & give us a call at 208-557-9299!
Corona Virus / COVID-19 Response
We are taking the Corona Virus / COVID-19 situation seriously, and doing our part to prevent its spread and keep ourselves and our customers safe. We do not plan to shut down, as we expect people will need their computers operational for online school, work, and entertainment. Below are some of the precautions we are taking:
Regular disinfecting of commonly touches surfaces such as door handles, countertops, keyboards, mice, & touchscreens, and seats
Wiping down computers left for service upon dropoff and pickup
Regular thorough hand washing
Running an ozone machine in the shop occasionally at night to disinfect thoroughly
Switching to personal hand towels for employees and disposable paper towels for customers in the bathroom
Use of facemasks and gloves as appropriate
We are also now offering remote service to reduce the number of service calls that require in-person meeting.
If you have any concerns, please let us know!