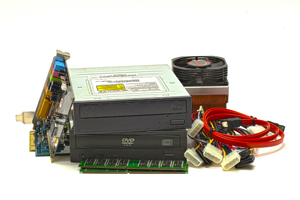 We offer a wide range of computer services from troubleshooting to repairs (hardware or software) to full builds. We perform our computer services in-shop but will also come to you if that's what you prefer. The Tune-up Deluxe is one of our more popular services. Check the topics below for more information on the service you require.
Services
Computer Sales
---
We offer many options when it comes to buying a computer or laptop. We keep a few affordable systems in shop that are good replacements for an old computer that may be too costly to repair or update. If you need something more, we can help you find the right computer or laptop to suit your needs whether it's an off the shelf model or something custom built. We will help you find the system you need. We also carry a small inventory of computer and laptop parts and accessories including external drives, keyboards and mice, cables and more. We are also available for any support you might need along the way including networking, installing software, installing drivers, etc.
---
Virus Removal & Tune-up
---
We offer a Virus Removal service and a Tune-up service for $40 a piece or bundled together for $60. Together, these services will get your machine running in top performance again. It includes virus removal, installation of antivirus software, cleaning/optimizing of the machine and more.
Click here
for detailed information.
---
Computer & Electronic Recycling
---
We offer free recycling of computers, parts, and electronics. Come in to the shop and see what we can do for you.
---
In-Shop Computer Service
---
We offer a wide range of In-Shop services from computer repair/service to media creation and data recovery. We love technology and are happy to help you troubleshoot any issue you might be having on any kind of device from cell phones and tablets to gaming consoles.
Click here
for details on all of our In-Shop services.
---
On-Site Computer Service
---
Sometimes it's not easy to pack up your machine and bring it in, or if you have a business computer you can't. We'd be happy to come to you and fix your problems at your location.
Click here
for details on our On-Site service.
---