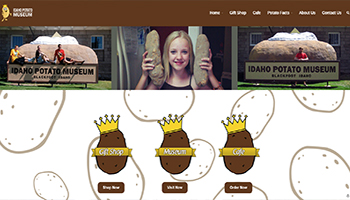 Customer:
---
Project:
The Blackfoot Chamber of Commerce approached us about rebuilding their Potato Museum website. In addition to a more attractive and dynamic design, they were interested in an online store built into the new site. They had previously been selling merchandise through eBay, but were tired of the fees, and wanted customers to be able to shop directly on their site.
Update: 2017
The site received a major update in 2017. The site was rebuilt to be fully responsive and feature an updated online gift shop and menu ordering system. The site has three main portals which can be accessed on the front page of the site. The online gift shop features the more popular items in the physical gift shop and can be ordered directly through the website. The cafe shop is set up where if you plan your trip ahead of time, you can order food from the Potato Station Cafe and it will be ready for you when you visit. The museum section of the site gives information on the current exhibits being shown in the museum. The site also uses an integrated Facebook feed which shows the most recent Facebook posts on the website.
---
Project Associates:
Christina Passmore

Initial Site Construction and Design
Construction and Design Assistance. Logo design for Potato Station Cafe.
2017 Site Update and Design. New eShop setup and integration.